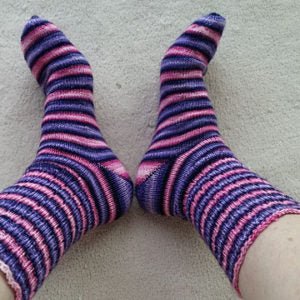 Lora's sock Class: Toe up, Fish Lip Kiss Heel, Magic Loop
This class is taught in two sessions. Class 1 takes about 3 hours. The first class is making a template of your foot, the cast on, increases for the toe, and tips for magic loop. You will then work on your sock until you reach the "heel hinge line". The second class is the Fish Lip Kiss Heel.  This is a shorter class and a ton of fun with a new short row technique.
You will need:  sock yarn purchased from the Yarn Club, avoid black and dark colors.
 A size 0 or 1  32 or 40 inch long needle. Chiaogoo is recommended.
 call to schedule your class with Lora (757) 486-5648