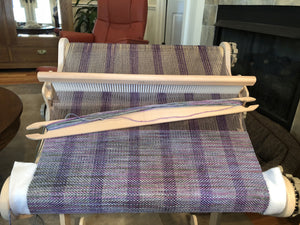 Learn to Weave with Bonnie
Sundays, 11-3pm 
September 10 & 24, Oct 1.

Join Bonnie for an introduction to weaving using the rigid heddle loom. In this class you will learn all of the basic knowledge you need to complete a lovely scarf. The class will meet in three sessions.  See times and dates from the drop down menu.  During the first class you will learn how to dress the loom and begin weaving.  The second class will cover any questions you may have as you continue your project. The final class will address removing the project from the loom and finishing options. Looms are available to rent for $25.00, which can be applied to the cost of the loom should you get hooked on fun fiber art! Supplies should be purchased before class so we are ready to make the most of our time.
LIMIT 6 STUDENTS
You will need:
A rigid heddle loom.  (Looms may be rented for the class duration)
600-800 yards of DK or Light Worsted weight yarn in two separate colors. (warp and weft)
scissors, tapestry needle, 
Loom Rental  If students choose to purchase their class loom, the rental fee becomes a deposit and goes towards the  purchase price.